Washington County Business Supports Producers for 50 Years
Washington County Business Supports Producers for 50 Years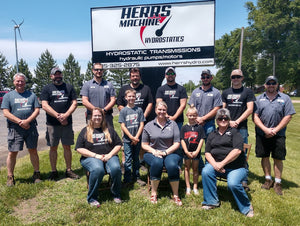 With humble beginnings in a family garage, Herrs Machine started in 1969. The Washington, Kan., business expands on the mechanical foundation of current owner Raleigh Ordoyne's grandfather, Alfred Herrs.
"I am honored to be entrusted with writing the next chapter of our superior work," Ordoyne said. "I take great pride in carrying on the family name with the business."
Alfred had the reputation of being able to fix
anything, like many in his family. This legacy led Raleigh's uncle and aunt, Lawrence and Cara Herrs, to found Herrs Machine 50 years ago. A reputation Raleigh and his wife Haely said they are proud to carry on in a niche market adding to the business name.
"We moved back to Washington County, where there's no better place to raise a family,"  he  said.  "I began working at Herrs Machine in 2008. Before that, I was an automotive mechanic and transmission shop co-founder in McPherson."
In 2016, Raleigh and Haely officially bought the family business, now called Herrs Machine Hydrostatics.
"We have been and continue to be so blessed," Ordoyne said. "We saw something that was good and found ways to work hard to make it even better for those we serve."
Farmers and mechanics need skilled technicians to support breakdowns, especially during wheat harvest. Herrs Machine Hydrostatics provides this service and so much more.
"We are well-known throughout North America for our quality service and products," Ordoyne said. "Our team of skilled technicians are up for the challenge, managing projects with attention to detail and expertise our clients have come to expect."
The muddy conditions of last fall's harvest put a lot of strain on combines, on top of another wet year out in fields.
"We're all preparing for breakdowns by having even more exchange units ready to go to keep down  time to a minimum and farmers running strong," Ordoyne said. "We have well over half a million of in-stock remanufactured units and parts on hand. I believe we will continue seeing the side effects of the strain and abuse from last year's efforts in the mud."
Dyno Tested, Farmer Approved
Even though a majority of the work supports combine hydrostats, Herrs Machine Hydrostatics does much more.
"Every year, it's more and more," Ordoyne said. "We work with hydrostatic pumps and motors that move almost any machine with hydrostatic drive. Either implement dealers, mechanics or farmers remove the weak or worn units, then ship or deliver them to us to exchange or repair."
Ordoyne's team specializes in the repair, rebuild and re- manufacturing of hydrostatic transmission pumps, motors and components used on industrial, mobile, agricultural and construction equipment, farm, construction, domestic and other types of equipment.
The team works on combines, feed mixers, tractors, cement trucks, sprayers, swathers, forage harvesters, skid steers, cotton pickers, lawn mowers, mud hogs, and even amusement rides.
Herrs is set apart by their long-running expertise and system to test products to ensure strong working conditions replicated in the field."One of our main differences is how we test our reman units," Ordoyne said. "We simulate a working field condition.
Our units are run at operating temperature under a load using a tractor dyno, so they are thoroughly tested for performance and leaks."This testing gives the opportunity to have all pressures set where they need to be so there is no guesswork.
"When you're shipping a transmission to an island off the coast of Washington state or Canada, it better work when it gets there," he said. "Our customers have that peace of mind with our process.
"Plates, cylinder blocks, center sections, pistons, mechanical shaft seals, and end caps are precisely lapped to remove all imperfections and ensure perfect flatness of the surface. All worn or outdated parts are discarded and upgraded to "better-than-factory" quality.
With the foundation being set in 1969, being in the business for more than five decades allows the team to know the industry like no-one else."We understand how important it is to feel confident and worry-free when it comes to the service we provide," Ordoyne said. "All hydrostatic units are completely disassembled, cleaned and inspected to evaluate all damages and determine the cause of failure to prevent it from happening again. We make sure everything is dyno tested in order to be farmer approved."
Ordoyne said his company is most well-known and the foremost authority around the globe for repairs and improvements of certain models of machines, specifically the International Harvester "Hydro" Tractors from 1967-1985.
The customer service involves taking calls, emails or even hosting visitors from multiple countries in several continents. In the last year, they have had entire tractors hauled into the shop from Wyoming, Minnesota, Illinois, Montana, Iowa, Oklahoma, Indiana, Wisconsin, Nebraska, Missouri and Texas for them to work on. They ship out transmissions via freight truck even farther, many going all over Canada recently.
"Our customers frequently comment that we provide the type of customer service that you just don't see anymore," Ordoyne said. "By walking customers through a series of diagnostic steps, we're able to not only solve issues, but save that farmer precious time and money – something everyone in the agriculture industry can appreciate.
"On several occasions, the team has diagnosed something in a matter of minutes that some mechanics have been fighting for years."We're providing much-needed services, and not many do what we do," Ordoyne said. "Having a strong reputation makes us all so proud. We always strive to do great work with five-star quality. Word of mouth from previous customers seems to be our best form of advertisement."
Rather than hire employees with certain degrees, the team looks for a mix of general mechanical aptitude, experience, attention to detail and a strong work ethic to learn the art of the craft."Our team has such a wide range of knowledge and skill set all under one roof. I couldn't ask for a better crew," Ordoyne said.
With 12 current employees, the team keeps growing and adding more people."There are only a very select, limited amount of high- er education programs that teach what we do," Ordoyne said. "We train our own to follow for two years of in- house learning. For example, we hired a high school kid recently, and he loves working here as an apprentice."
The footprint of their shop has also expanded with more space. Recently the tractor shop department of the business on the premises has moved to the former location of Herrs Memory Lane museum, which has moved a block away.
"I've worked as a mechanic my whole life and the turnover in the profession is unreal, but not at our shop," he said. "I believe that when you take care of your employees, they will take care of your business. This results in turning out a consistently great product and happy, repeat customers who recommend us to others."
Carrying on the family legacy remains a focus at Herrs Machine Hydrostatics. The constant dedication to superior service, excellent quality and customer service are key motivators to adapt with the future needs of the industry.
As a county commissioner and outdoors enthusiast, Ordoyne also owns a hunting lodge and the skilled nursing home in Washington that his wife Haely operates.
While Herrs Machine Hydrostatics is a key focus for Ordoyne, his primary focus is always 'family first.' Raleigh and Haely will celebrate 13 years of marriage this fall.
Their son, Hunter is ten; and their daughter, Leah, is six. The kids love ATVs, base- ball, fishing and helping out at the shop to keep the legacy of excellence, dedication and service alive for years to come.