Hydrostatic Transmission Repair with Nationwide Customer Base
Hydrostatic Transmission Repair with Nationwide Customer Base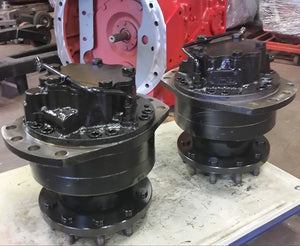 Take a second to visualize, a mechanic shop so good at what they do that you'd have your tractor shipped half way across the country to be repaired. In the world of hydrostatic transmissions, the place to go is Herrs Machine Hydrostatics in Washington, Kansas. Equipment owners from all over the United States and Canada will ship their transmissions or complete tractors to this company. They can install their remanufactured dyno tested exchange units or they can overhaul your entire tractor if needed.
     The company has been rebuilding hydrostatic transmissions since 1969. Although most well known for IH Hydro tractors, some of the more common hydros they work on are out of combines, skid loaders, swathers, forage harvesters, sprayers, construction equipment, and rear wheel assist motors on combines. As part of the Hydro experience, all units are completely disassembled, cleaned, and inspected to evaluate all damages and determine the cause of failure to prevent it from happening again. The process continues with parts replacement, updates, lapping, assembly, dyno testing, and then painting.
     In addition to their remanufacturing service, they keep a large inventory of parts, pumps, and exchange dyno-tested, ready to-bolt-in remanufactured hydros. Herrs Machine Hydrostatics' test stands allow all units to be checked for leaks and are ran at operating temperature under load to simulate a field condition. They are able to set charge, servo, and drive pressures to manufacturer's specifications. They can also quote freight trucks (coast to coast) at an insured-discounted rate.
     "With grain and cattle prices where they are, it seems like more customers are fixing what they already own versus buying new. It's our job to make sure it will last them for many more years to come." says owner, Raleigh Ordoyne. For price quotes or free technical help call (785) 325-2875 or e-mail to herrshydro@ yahoo.com. To view instructional videos, find us on Facebook or www.herrshydro. com.