Local Business has National Scope
Local Business has National Scope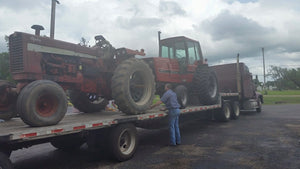 Can you imagine a mechanic shop so good that you would ship your tractor several states away to get it fixed? When it comes to International Harvester hydro tractors, there is such a place that tractor owners from across the United States and even Canada will eagerly ship their transmissions or even tractors to. That place is Herrs Machine Hydrostatics in Washington. Raleigh and Haely Ordoyne are the new owners of Herrs Machine, now called Herrs Machine Hydrostatics, a family business with a long legacy and deep roots. Herrs Machine was started by Raleigh's aunt and uncle, Cara and Lawrence Herrs.
This business, with a remarkable reputation and great following in the world of hydrostatic enthusiasts, was started by Lawrence and Cara in their garage in 1969. The business was built on the foundation laid by Lawrence's father, Raleigh's grandfather, Alfred Herrs. Alfred had the reputation of being able to fix anything in his shop. This is a legacy Raleigh is proud to continue in a niche market. "I am just honored to be entrusted with continuing the legacy of our superior work. I take great pride in carrying on the family name with the business." said Ordoyne. Raleigh and his wife Haely moved back to Washington County in 2008 to care for Raleigh's father, who was ailing from the side effects of Agent Orange from time served in Vietnam. Raleigh & Haely purchased a property with a unique setup. The property not only had their personal home and shop, but it also had an additional four bedroom, four bathroom home and three car garage. With a little vision and motivation, Raleigh and his wife updated and remodeled the additional home and it is now used as hunting lodge. The lodge houses out of state hunters during the spring, fall and winter months. Raleigh & Haely also own a skilled nursing home in Washington, which Haely operates.
Raleigh previously had co-founded a transmission shop in McPherson before returning home. He started working for his aunt and uncle eight years prior to buying the business in February of this year.
The attention to detail is what sets Herrs Machine Hydrostatics apart from the competition. Many of the parts used in the remanufacture are actually better than the original parts and an improvement on the original design. All hydrostats are put on a specially designed dyno and placed under a full load and tested extensively.
"When you're shipping a transmission to the east or west coast, it better work." Raleigh stated. Customer service is also a calling card of Herrs Machine Hydrostatics. "We treat people how you would want to be treated. We offer free tech help over the phone. After talking to either Wayne (our service manager) or myself, people really want us to be the one to work on their hydrostats. We have been known to fix hydrostat issues over the phone after a few questions." said Ordoyne proudly.
One thing that hasn't changed is the family connection. His aunt and uncle continue to work in the business on a part-time basis. Cara helps up front in the office and Lawrence works on the diesel pumps and torque amplifier as needed. Raleigh works alongside his family members; Jon Rettig and Chris Herrs who are employed as technicians with additional responsibilities.
The future of Herrs Machine Hydrostatics is extremely bright. In a down agricultural economy Herrs Machine Hydrostatics is a growing, expanding business, adding three new employees in the past six months. They are also looking to expand their facilities because they are running out of space. Raleigh sees expansion in the future by adding more inventory, especially for skid steer hydrostats and rear wheel assist motors on combines, in their exchange program. Raleigh sums it up with, "In times like this, many of our customers want to fix what they have rather than spend money on new equipment. We want to make sure it will last them for many more years."