New Herrs Machine Owner Hopes to Build On Reputation
New Herrs Machine Owner Hopes to Build On Reputation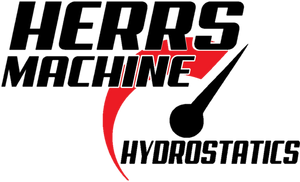 "Lawrence and Cara poured their heart and soul into starting this from nothing," said Raleigh Ordoyne. "I wanted to be a part of the legacy. I'm just honored to continue that."
In February, Ordoyne purchased Herrs Machine from his aunt and uncle. The reputation Ordoyne's grandpa Alfred carried, for being able to fix anything, continues in a niche market Ordoyne added to the brand name, now Herrs Machine Hydrostatics.
"We get a lot of unsolvable cases," said Ordoyne. "It's been to several different shops across the country. Nobody knows what the problem is, and they bring it here."
According to Ordoyne, Herrs Machine originally would work on just about everything. Now, the majority of their business comes from a niche market that Ordoyne worked into a new logo and new name, Herrs Machine Hydrostatics.
"Herrs Machine has such a good reputation with hydrostatics" said Ordoyne. "We're mainly hydrostatics because there are very few places in the country that do what we do. The change in name just let's people know what our niche market is and what we really do.
"The machine shop is known throughout North America for their work on hydrostatics, a fluid driven transmission, in 60-80's International tractors. People from around the United States and Canada ship and travel to Washington for hydrostatic transmission service.
"It's just crazy the amount of people that will drive that far or how far we actually ship them," Ordoyne said. "When people go to tractor forums online, we hear it all the time, they're told to call Herr's Machine."
When Ordoyne and his wife, Haely, moved back to the area in 2008 to spend time with his ailing father, he started working for his aunt and uncle at Herr's Machine. Prior, he had worked at an auto dealership and co-founded a transmission service shop in McPherson, using an associate's degree he'd earned in auto mechanics.
His experience with the internet also became useful for the business.
"Whenever you look for something, everybody says 'Google it,'" Ordoyne said. "Times are really changing. I knew to increase business and generate more revenue we needed to be one of the first things to pop up when people look for something online."
Along with developing the system that made Washington's Herr's Machine populate as the fi
rst option in a Google search, Ordoyne created a Facebook page and produced YouTube videos promoting the niche market of hydrostatics.
"It's just kind of snowballed from there," said Ordoyne. "We have key people in place. Everyone brings a special talent or niche. It's just insane right now, and we feel very blessed. If this pace continues, we will be looking to hire additional employees."
Currently, the business employs family members, Jon Rettig and Chris Herrs, as technicians with additional responsibilities and Wayne Bolejack as service manager. Lawrence and Cara will continue working with the business, with Lawrence servicing diesel pumps and torque amplifiers and Cara continuing in the office. Deb Leis manages the office. With the shape of the current economy related to agriculture, additional employees will help keep up with the six months worth of work waiting and the work yet to come.
"When the economy is bad, when cattle and grain prices are down, and there is uncertainty in the future, people do more fixing of what they already own," said Ordoyne. "We are also seeing more hydrostatic equipment from the construction industry."
In addition to International tractors, Herr's Machine services hydrostats out of combines, skid steers, rear wheel assist motors, and any pump or motor that is fluid driven.
The expertise at Herr's Machine benefits the local economy, also. "The amount of people that drive here from out of state, they're putting fuel in their car, we send them downtown to eat, they're staying in the motels," Ordoyne said. "People love it. We hear it all the time. They want to come see the museum (at the machine shop), they're going to the pie factory, they're going to the brewery. It's bringing revenue to town."
The amount of work Ordoyne creates for himself, keeps him from having many hobbies outside his family. He does help coach summer T-ball for their six-year-old son, Hunter, and fi nished a three year term at Immanuel Lutheran Church as a trustee. In addition, he owns and manages a hunting lodge located on the family property west of Linn in Brantford township and has helped Haely remodel the Centennial Homestead Nursing Home that the two own. The family also includes a three-year old daughter, Leah.